Welcome to:
The Unholy Three: Three Officers of the 618th Engineers in WWII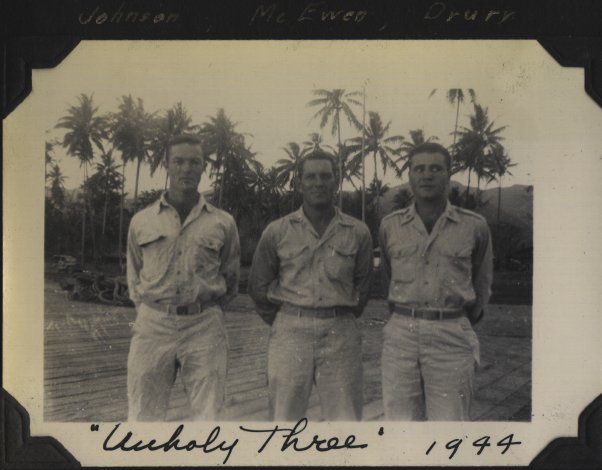 Our father, W. F. Johnson, was an officer in the 618th Engineer Company (initially the 618th Engineer Equipment Company and then the 618th Engineer Base Equipment Company), serving in New Guinea and the Philippines in WWII.

An avid photographer, he recorded many moments in the life of his unit from its time at Camp Claiborne, Louisiana, until it left the Philippines in Jan 1946. Such of those photographs as have survived are presented below, along with whatever info was recorded at the time or that we can deduce from other sources.

The name "Unholy Three" was scribed on the photo (above) of our dad with two close friends and fellow officers, Charles Drury and Bernard McEwen. Exactly how this moniker came about, who assigned it (the handwriting appears to be Lieutenant Drury's), and what it might have signified at the time are mysteries that have been lost to the ages.

Today, we feel is can be taken as an apt epithet for a generation of men and women who did not let anything stand in their way. (And who, for the most part, were pretty good-natured about it.)


---
The Galleries

The 618th Engineer Equipment Company, soon redesignated the 618th Engineer Base Equipment Company, was activated 25 May 1943 at Camp Claiborne, Louisiana and engaged in training there for the remainder of 1943.

In February 1944, the 618th arrived in New Guinea. They operated around Milne Bay, on the SE end of Papua New Guinea. Milne Bay had become a major facility by then and was undergoing extensive development.

The 618th moved from New Guinea to the Philippines in May 1945. Here are a few images of the trip.

The 618th worked in NW Luzon. San Fernando, in La Union province N of Manila, was their base of operations. Lt. Johnson had time to take a few side trips and mingle with the local people.

The 618th was inactivated 15 January 1946 in the Philippines, as the men returned home or transferred to other units. A job well done.
All contents copyright © L.S. Johnson and C.A. Johnson, 2017.
All rights reserved.